3 Latest Sunglass Trends & Fashion Styles For Summer 2020
Everyone involved in the fashion industry has an opinion about what to wear and what not to wear, colors, shape, style etc. Today I will talk about some new fashion trends for Spring & Summer 2020. Sunglasses are a stylish accessory and can add so much flare to your outfit. We will be discussing some new sunglass trends and some vintage styles making a comeback.
Now, let's say hello to Summer 2020 with our suggested sunglass styles. 
1. Oversized Sunglass Trend 
(Paris Hilton Oversized Sunglasses)
We are seeing a new oversized sunglass trend thanks to pop culture icons like Paris Hilton & Beyonce. The 2000's trend seems to be making a fashionable comeback. Oversized Sunglasses are becoming more common for social media influencers & fashion icons to wear. With a proper selection, you too can comfortably and fashionably wear this style, while looking like the glasses we made for you, instead of wearing you. For example, Beyonce is able to pull off the chic oversized sunglasses look. Getting a nice fashionable pair of oversized sunnies is a smart for decision with summer 2020 on its way.
(Beyonce wearing trendy oversized sunglasses at the beach)
Part of the reason oversized sunglasses are trending is because of the new oversized designer clothing trend. Popular social media icons have increasingly  been seen wearing oversized clothing & sunglasses. Part of the reason for this is because it avoids conforming with the norm that you have to wear tight skinny clothing to be fashionable. It's very trendy to do the opposite and wear large, oversized accessories that accentuate your features. Billie Eilish is a grammy winning 18 year old fashion icon who is often seen sporting oversized clothing and sunglasses.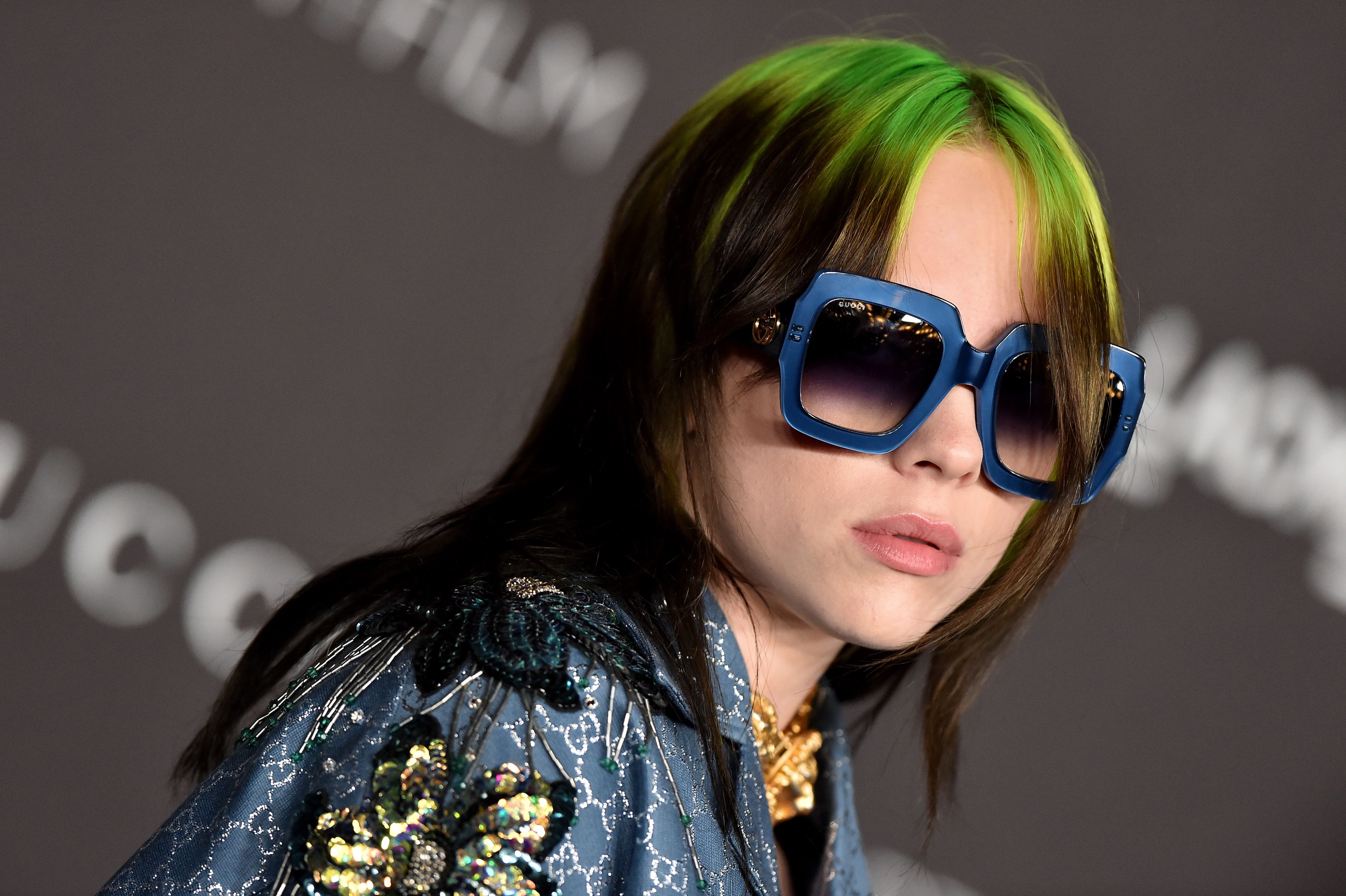 (Billie Eilish Oversized Gucci Sunglasses)
Known for her quirky style and aesthetic, the singer has previously opened up about why she tends to go for clothing with a looser fit, saying that she's done so to avoid people from sexualizing her body. We stan queens like Billie Eilish & Beyonce. 
If you are looking for a cute pair of oversized sunnies, we recommend shopping around our store. We are having a summer sale on our Higody Fashion Women's Oversized Sunglasses.
2. Cat Eye Sunglass Trend 
Cat eye sunglasses are flirty, sexy and downright attractive, especially when coupled with other top trends for the year. Throughout the years, many top actresses have sported the look, from Audrey Hepburn to Elizabeth Taylor, and Marilyn Monroe. From Fendi to Max Mara, the craziest cat eye glasses styles comes from the runway first. Most female celebrities in cat eye sunglasses always choose the classic style with a hint of print or detail on them.
(Chiara Ferragni wearing a chic pair of mirrored cat eye sunglasses)
Chiara Ferragni is an Italian blogger, fashion designer, and businesswoman. Chiara has modeled extensively, making the cover of many big-name modeling magazines, including Vogue three times. She has had numerous fashion collaborations with the likes of Christian Dior, Louis Vuitton, Max Mara, Chanel, Tommy Hilfiger, J Brand and Seven for All Mankind. Cat Eye sunglasses are a must have accessory for spring & summer 2020.
(Sunglass Society Women's Cat Eye Sunglasses)
There is something particularly glamorous about cat eye sunglasses
 – this is not a shape that necessarily works with all features, but when it does, the effect is attention-grabbing. 
Cat eye sunglasses look good on bottom-heavy face shapes such as round, square and triangular because the frame's shape balances the features out. 
(Reality Tv Star, Lauren Conrad, sporting cat eye sunglasses)
Lauren Conrad is another fashion icon who can rock a pair of cat eye sunglasses! 
The classic cat-eye is going to be very stylish this summer. Take flight in exaggerated wing-shaped frames, with cut-out detailing in black and tortoise, or take a risk with statement-making prints and bright hues.
3. Round Sunglasses Trend 
Round sunglasses have a very retro feel, and with the 80's inspiration in full swing this year, they're the perfect addition to your summer accessory list. 
The iconic round style has made an updated comeback for spring & summer 2020. It's a timeless style that many influencers like Kylie Jenner have been spotted with.
"Round sunglasses are a must for this season, with the best examples combining acetate arms and metal fronts," says Marie Wilkinson, design director at Cutler and Gross. The stylish round sunglasses pioneered by John Lennon are a must have this season!
(Game of Thrones star Sophie Turner wearing fashionable round sunglasses)
I would recommend a fashionable pair of round sunglasses to wear out this summer. They are an excellent accessory to match any stylish sunny weather outfit. Round glasses are a great way to add variety to your wardrobe. Their unique shape sets you apart from other sun-and-style lovers, and the diverse styles of round sunglasses available mean you can rock as outrageous or as unassuming a look as you like.
Thanks For Your Support!
Thanks for reading our Spring Fashion Trends Blog! We hope you enjoyed it and found some sunglasses inspiration.
---